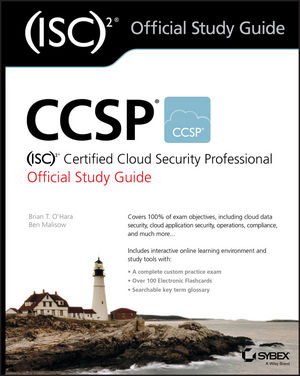 CLICK HERE TO GET YOUR OWN COPY OR MORE INFO
The CCSP® Sybex Study Guide is the only official study guide that is endorsed by (ISC)²®, the certifying body of the CCSP®. 
This is the third book released by ISC2® for the CCSP in a short time frame.   The first two had some serious issues and this one will fill some of the gaps missing from the first two editions.
The book has new authors as well, it is written by Brian T. O'Hara and Ben Malisow.    One of the technical editors is Mr. Tom Updegrove that I know very well.  Tom is a great security professional and someone who is hands on.   That combination of new authors and new technical editors will certainly help.
The book has a soft cover and surprised me by its very small size.  There are less than 300 pages of actual content in the book.
I have not completely read it yet, however from what I have read so far, there is no fluff and you will certainly need to supplement the book with some of the freely available resources that are a MUST read such as:
CSA Security Guidance Version 3  (Version 4 should be released soon, keep visiting the site to get it when it comes out)

COMPANION WEBSITE
Just like other Sybex book, one of the added value is the companion website you can access once you buy the book.
The companion website is still a mystery to me.  I had a hard time finding it.
I have found the instructor companion website but not the one with the flashcards, quizzes, etc...
TEST BANK
The books say two exams of 250 questions are available online for FREE.
They point you to sybextestbanks.wiley.com but so far I have not been able to find them.  I have found the CISSP and the SSCP but no trace of the CCSP.
If you succeed in finding those tests let me know.
ERRATA
Ensure you take a few minutes to read the errata, this way you study the right content, see the errata at:
http://www.wiley.com/WileyCDA/WileyTitle/productCd-1119277418,miniSiteCd-SYBEX.html
There are 4 mistakes that have been reported so far.   It could make the difference between passing or not.
WHERE TO BUY
The best place to buy it is on Amazon where the prices are lower than the publisher website by a lot.
CLICK HERE TO GET YOUR OWN COPY OR MORE INFO
Best regards to all
Clement